Here are 6 reasons for you to consider having newborn portraits taken of your new little one.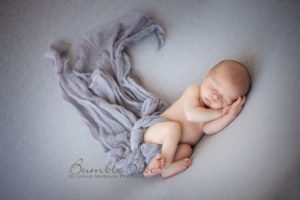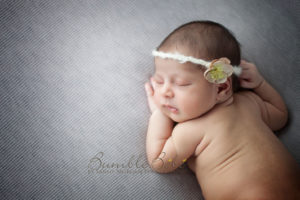 Reason 1 ~ Newborn portraits are the only chance you will have to capture sweet sleeping portraits of your baby.
Think about it:  every baby is so precious while sleeping, parents love to watch their babies sleep, the only time in their life where you can be sure they'll be in this sweet phase is 2 weeks and younger.  For the rest of their lives, they'll be alert and on the move!
Reason 2 ~ This is the only time to capture those adorable bendy, curled up poses we all love.
By week 3 babies start stretching out and discovering the world around them.  And you may never see that beautiful full fetal position again.
Reason 3 ~ Newborn images are much more than the full body portraits they'll get throughout the rest of their lives. 
Newborns are sweet, tiny and curled up.  Details like ears, nose, tiny fingers & toes will be captured along with their sweet faces, and those little things will change so fast!
Reason 4 ~ You carried this baby for 9 months, but you won't be able to carry her much longer.
Never again will your baby fit snugly under your chin or in the palm of your hands. Before you know it she won't fit in your arms anymore.  You need to have these moment to treasure and once this fleeting time is gone, no one can capture moments like these again and you'll wish you had.
Reason 5 ~ Birth Announcements with images of your new beautiful, happy family are not only informative, but they are a keepsake to go straight into the baby book.
You are announcing to the world that this precious child is yours!  Also, albums and books are a great keepsake for your grown child.  How fun will it be to sit with your son or daughter and go through their baby album or even better, give it to them as a gift for their wedding!  You are only caretakers of their legacy.
Reason 6 ~ Although you may have a great camera and good intentions, those first few weeks fly by!
You should definitely have your camera within reach and use it frequently to catch those everyday moments, but those first two weeks fly by with you will be going through an amazing adjustment and just too tired and busy to capture the sweet images of tiny toes, blistered lips and chubby cheeks that you will love looking back on.