Frequently Asked Questions
Many clients have questions about newborn sessions.  This page answers the most frequently asked questions.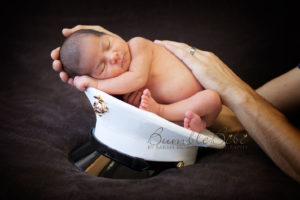 How do we know when to schedule our newborn session?
It is best to book while in your third trimester and well before the baby arrives.  Booking early ensures your spot on our calendar when baby arrives.  I only book 6 babies a month in order to provide great customer service and very often have to refer new parents to other photographers.  Booking early also allows us to break the cost of your collection into payments which can help you afford the Collection your heart desires.  Once you are on the schedule, I only need a few days notice to get you in for your session.
What is the best age to photograph a newborn baby?
It is preferable to have babies come in the studio for their newborn session between 3 and 10 days new.  I have found that younger babies are still very sleepy and love to be curled into those sweet bendy poses we all love.  After 14 days, babies tend to be more alert and less flexible.  They also tend to be a bit restless, stronger and much more active.  This is also the time when baby acne and peeling can begin.  If your baby is a preemie, we can still do a newborn session up to about 1 month.
Why is newborn photography so expensive?
What we are is a full service, high quality studio that provides clients with a completely personal experience and custom designed products created exclusively for them.  Newborn photography is very labor intensive.  First the session is about 3 hours long and baby images need a lot of editing.  Even babies with great skin have marks from clothing and diapers that need to be removed.  All of our baby images are completely retouched and enhanced to perfection.  We also provide you with a personal viewing/selection appointment where we help you make your selections and create your products.  This can be daunting for new parents running on little sleep so we guide you easily through the process.  Last, creating custom albums, books and products takes time.  My labs are the best in the country at providing you with amazing products but are a bit more expensive than on-line consumer photography products.
Do you offer consultations?
Of course!  Due to busy schedules, most of our moms opt for a phone consultation, however I love when moms want to meet at the studio as well. During your consultation we will discuss what you envision from your session, your home décor and where your portraits will be displayed.  We will also discuss how you would like to preserve your portraits, by printing and displaying on your walls so you see them every day or in an album you can share with your child.  We will discuss clothing to bring for your family portraits and colors of the nursery so we can match our props.
Where will my session take place?
All newborn sessions are done at the studio off Miramar Road.  The studio has beautiful natural light, all props, supplies and resources needed to create amazing images for you.
What will my newborn session cost?
You have the option of choosing a Designer Collection which includes your session fee and image files as well as products, depending on the collection or Create Your Own Collection where you select a Signature Wall or Album Product and how many digital images you want to create a collection to suite your needs and to compliment your home.  Keep in mind the Designer Collections have deep discounts.  Most clients spend between $695 and $1599.
Do you offer Gift Certificates?
YES!  Once you book your session, you should definitely inform your friends and family and add Sarah Morgan Photography to your baby registry.  Your friends and family can purchase Gift Certificates to help you get the Portrait Collection your heart desires!
How long will you spend with us?
3 hours is scheduled for each newborn session to be sure we have enough time for feeding, comforting and photography, however, I only schedule one baby a day so we will not be rushed.  For the photography, we will start with baby alone on soft, warm blankets to help promote a deep sleep using minimal props, the props and positioning will be changed a couple of times here.  We will also photograph the baby in a bucket or basket or on a bench for a different vignette as well as do family portraits with mom, dad, baby; mom and baby; and dad and baby.
Do you photograph the parents with the baby?
Of course!  I am a huge advocate of mom and dad being photographed with baby.  These are the images your grown child will cherish forever and you will want to remember just how tiny and adorable that teenager was at one time!
Who can come with me to the session?
I definitely recommend dad come with you, if possible, so he can be included in the family portraits, however, since the nature of newborn photography is a quiet setting, I recommend only mom and dad come to the session. If dad can't make it, please feel free to bring your mom or a friend.  If there are siblings, it is great if a relative can bring the sibling in just for a portion of the shoot to get family and sibling photos.
How should we dress the baby?
It is not necessary to bring clothing for the baby.  Newborns are naked or wrapped throughout their session with only minimal props added.  Newborn babies are so perfect and adorable just as they are!  Newborn clothing rarely fits well and babies tend to get lost in all the extra fabric.  Also, it wakes them up changing clothes and the most adorable images are of them sleeping.
What should I wear?
See our What to Wear for my newborn portraits guide.  The studio gets warm so it is best to dress in layers.  Also, the baby will be naked and accidents can happen so you may want to bring an extra shirt or outfit.
Can I take photos during the session?
In order to keep baby and everyone safe as well as keep baby asleep, we only allow photos to be taken from the bench in the studio.  You can take photos of the baby being photographed, but are not allowed to be near the baby (especially mom as baby will smell milk and awaken) or be above or behind the photographer as there is a tendency for me to pop up and back up frequently during a shoot.
Do you offer birth announcements?
Yes!  You select the images and a custom designed announcement will be created just for you.  Turnaround time is usually within 1-2 weeks.
Should we postpone if my baby has acne or peeling skin?
No, we see this all the time.  Most babies have some level of baby acne or peeling skin.  Each image you purchase will be professionally enhanced so baby has perfect skin. All blemishes, dry skin and boo-boos will be smoothed and soften, so no worries!
How soon will I get to see my baby's portraits?
You will be invited back to the studio about 1 week from your session to make your selections and place your order.  I will help you every step of the way as this can be the most challenging to some parents.  We request that all decisions makers be present for this appointment as this will be the only time you can place your order.  We do not do on-line galleries of newborn images.
How many images will I see from my session?
The nature of newborn sessions is to get the baby settled and get a couple quick shots, just in case.  From there we tweak the pose to make it perfect, so dozens of photographs may be taken, but they are certainly not all keepers.  You will be shown the very best 30-40 images to make your selections from.