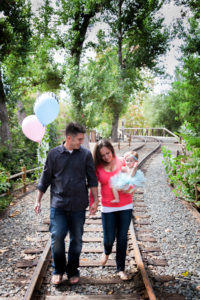 "I cannot thank you enough! The portraits are absolutely beyond expectation!  You are a supreme photo diva and worthy of all the success you can behold!
~ Judith B."
"My husband and I couldn't be more pleased with our photo session with Sarah!  She was brave enough to accept the challenge of capturing pictures of our 5 week old (other photographers would not do so due to his post-newborn age), and they turned out beautifully!  She not only captured our son in typical newborn poses, but also family photos and pictures of him alert and smiling.  Sarah was very detailed, even asking about our son's nursery colors and matching her backgrounds.  She was patient and creative throughout the whole process.  She also baked fresh cookies during the session  – awesome treat for new parents!  Viewing our photos afterwards was so much fun.  She was organized, receptive to ideas and passionate about her work.  I would highly recommend Sarah to capture your baby's sweet moments!"
~Jennifer B.
"Sarah was recommended by a friend, but I still waited a year before I actually went to see her.  Boy, was I in for a nice surprise!  She made me feel comfortable and relaxed.  We got some great shots and we selected the winning poses before I left!  It was awesome!"
~ Augie A.
"For those of you looking for an amazing, patient, sweet and loving photographer, Sarah Morgan is a perfect fit!  She has captured my family's special moments and our very first family portrait.  We absolutely love how it all turned out."
~ Khristina C.
"Where do I start! Sarah is AMAZING! It was extremely important to me and my husband to find the right photographer to take our baby's first photographs and we did! Our doula/lactation consultant highly recommended Sarah so we contacted her. We were in a hurry to have the photos taken right away since our baby was already 3 1/2 weeks old. We contacted Sarah by email since it was late in the evening. She responded right away, and accommodated our request to be seen soon by offered to take the photographs the very next day! That night she sent us some very helpful tips of things we could do that night to help us have a successful photo shoot.  As all parents experience, the next morning did not go as smoothly as planned trying to time the baby feeding. I was considering cancelling the shoot because I was afraid our baby would be screaming for food in the middle of the appointment. But we decided to just do it anyway and I'm so glad we did! As soon as we showed up Sarah put our minds at ease. She helped us relax and gave us time to feed the baby in a very calm, comfortable and peaceful room before we started. Sarah didn't rush us and was fun to talk to. She even baked us cookies right in the studio so they were ready right when we got there to help us feel at home!  Once the shoot started Sarah told my husband and I to sit back and relax and just enjoy watching her take the photos. She was so gentle and loving with our baby. And when the baby had a few "accidents" during the shoot Sarah wasn't phased a bit. She cleaned him up and continued the shoot. She even invited us to stay after the shoot so we could feed and change the baby!
When it was time to view the photos, Sarah helped us to pick out the best photos in a very easy systematic way. It would have been impossible to pick without her help because they were all so good! She has the unique ability to capture the best poses and facial expressions of our baby and we were extremely impressed. Sarah is truly gifted!  We had an awesome experience with Sarah and we HIGHLY recommend her!"
~Bridgett B.
"Sarah is a very experienced and professional photographer.  I got her flyer from the company that I work for, so I called her and left a voice-mail.  She responded very quickly and we set up the appointment for the next day.  I really needed my headshot asap, and I mentioned that to her.  I was shocked with her quickness.  I got my pictures the next day!  I'm so glad that I worked with her.  She is a very sweet and genial lady.  I'm very satisfied with my pictures.  Highly recommended!!"
~ Kaylee G.
"I know Sarah's specialty is with newborns, but she is a great family photographer as well.  We had a family portrait session at the beach in July.  She was great with all the family members, but especially patient with our two year old granddaughter, who wasn't as interested as the rest of us.  She had fabulous ideas of backgrounds and we love the results.  We will use her again!"
~ Terry W.
"Sarah recently did our son's newborn photos and she was wonderful and the photos came out great! Sarah made the photo session process comfortable and stress free and she was very patient, kind and gentle with our little boy. The style of the photos were just what we had been looking for and we love them. We highly recommend Sarah Morgan Photography. Thank you so much Sarah!"
~Annie D.
"We had always used another photographer who was ok, no complaints yet nothing super extraordinary. Several years back, we were referred by a family friend to Sarah's studio and ever since then, we have come back year after year and refer everybody we know to her. First and foremost, the quality of her photographs is amazing, as is her uncanny ability to capture phenomenal shots. We have done several different settings now – my wife's first pregnancy, birthdays, my parent's 50 year anniversary, multiple Halloween parties and family portraits. Each time we are treated to incredible pictures that are unique and just breathless to view. Her price is comparable, if not a bit less expensive, than other places yet the quality of her photographs cannot be beat. Plus, Sarah is an amazingly friendly person who not only cares deeply about her craft, but is a "people person" who is friendlier than Mickey Mouse at Disneyland. She always returns calls, texts and emails timely, even on weekends, is always positive and cheerful and is a genuinely great person to work with. After working with other photographers and then her, we will never use somebody other than Sarah. And, once again, the most important thing, the quality of her pictures, cannot be beat. Every single time we have used her, our photographs have been delivered earlier than promised and she works with you to ensure any touch up or other issues are exactly what YOU want, not what she is trying to force upon you. Equally important is Sarah is very honest: she won't try to oversell you on pictures you don't want or need and she is not pushy in her packages. She sells you what you want and need, not what she can sell to make a bigger buck. My only regret is we didn't find her years ago. Trust me, you will love working with her."
~ Dave H.
"My wife and I had an awesome experience with Sarah at her studio!! We did a lot of research online to find a photographer – Sarah's photos literally jumped off the page to us, making it a no brainer to choose her. She did such an amazing job with our little Emily, making it very comfortable for us and especially for Emily. She had so many fun options of hats & outfits to choose from!! When all is said and done we had a ton of great photos, making it near impossible to narrow down our top options.  These photos will be a part of our family forever – THANK YOU Sarah for creating these beautiful photos of our precious little girl. I would recommend Sarah Morgan to anyone looking for baby or family photos – you won't regret it."
~Sean K.
"This isn't the first time I've had professional pictures taken, however this was by far the best. My first reaction when I looked at the pictures was simply, wow! I was stoked. Sarah is all about quality. She paid meticulous attention to the lighting, location, and color-coordination right down to the point of helping me select what I was going to wear for specific locations. Sarah has a warm, upbeat, and energizing personality which put me at ease in front of the camera. I will definitely recommend her to anyone I know who wants quality and professional photos."
~ Rickey M.
"I recently had Sarah do my newborn photos and she was amazing! She sent very thorough instructions before the appointment, which were helpful – but I was still nervous going in because who knows what will happen with a newborn. As soon as I walked in the door Sarah put me completely at ease. She was so patient, gentle and created such an inviting atmosphere. Truly a pleasure to work with. The pictures turned out amazing and the experience of having the pictures taken was extremely enjoyable – although with the comfortable environment Sarah created, it was difficult for this mother of a newborn to stay awake through it! Sarah even accounted for the colors of the nursery when picking out backdrops and and outfits.  Everything about the pictures and the experience was perfect, down to the last detail. Highly recommend!!"
~Danielle K.
"Sarah has done my business head-shots for years now and each time, I am delighted with the results.  These days, with your picture on so much media, it's important to get a really good photo.  Sarah's work is excellent and I feel confident with her photo.  Her prices are reasonable, and she's lovely to work with. Retouches are tasteful, but not so extreme that you look a different person when someone actually meets you!! Highly recommend."
~ Vay A.
"We just finished our newborn photo shoot and photo viewing session with Sarah and could not be more pleased with our experience.  As a first time mom, these photos were extremely important to me so I wanted to make sure we went with the highest quality professional San Diego had to offer.  Sarah exceeded our expectations in both the shoot and post processing  and had amazing al la carte options and packages to choose from.  She was very sweet and tender with our son in between takes and getting him into position for photos and her props are too cute.  My husband and I are so glad we trusted Sarah for this experience and are already booking our Holiday card shoot!"
~Maggie K.
"I had professional photos taken before, but this was the first time I was happy with the results. Sarah made me feel comfortable and relaxed which is the key to getting a great photo from me. Great turn around, great service. Highly recommended!!!"
~ Michele E.
"It couldn't have been easier…. Sarah was ready for me when I arrived. From that moment her personality kept things flowing that before I knew it… we were done and I was out and back to my busy life (Maybe I was hoping it would take longer and keep me out of the office longer). But her real talent was revealed a few days later when I received the finished proofs. All the prints were great, making it very hard to select just 2. I'm very pleased with the experience, the product and, most of all, the price. Sarah is a triple threat. Congrats."
~ Brent C.