What to Wear
I love it when parents want to have a few images with their newborn baby.  The relationship between a newborn and new parent is magic!  The love and adoration is incredible to witness and these are the images your child will cherish as an adult.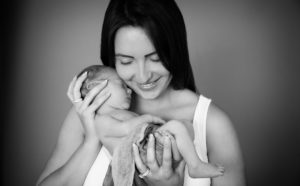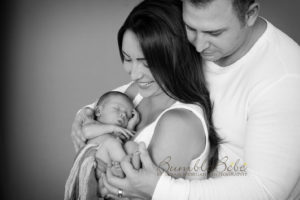 Tips for Selecting Clothing for your Family Portrait with your Newborn
Skin to Skin is best – The most beautiful portraits of moms and their newborns are when they are skin to skin.  If you have a nude or white tube top, bring it, it will be the perfect item to wear to get these sweet, intimate images.  If not, we can wrap you in cloth to create a strapless top.  I love it if Dad is comfortable removing his shirt for those cuddled up poses with baby.
Consider your home decor – When deciding what to wear for a portrait with your newborn, take clues from your home decor, especially the room where your portrait will hang. Select clothing colors that will compliment your room.  Since this portrait will be created in-studio, it is good to review your home décor with your photographer so she can select a backdrop and help you select clothing which will compliment your home and the room where the portrait will be displayed.  Remember, you want to display these portraits for a very long time, so considering your decor is key to your portrait being a compliment to your home.
Keep it simple – With newborn portraits, it is best to keep clothing very simple, solid and minimal. Plain shirts with no logos or designs are best.  T-shirts work great.  Moms tend to want to hide those few extra baby pounds under a blousy top, but don't!   Wearing a loose top makes it impossible for a photographer to edit your waistline.  Wear a form fitting top that allows for editing so we can magically help you lose those few extra pounds.
Neutral Colors Are Best – Unless you have a home decorated with bright colors or a room that needs bright pops of color, it is best to stick to very light, neutral colors for your mom/dad/newborn shoot. White, light gray, tan, beige, light pink, light yellow and light blue are all great options.  If you like a darker tone, black works well.
Match it Up – this is one time when matching clothing color is a good thing. Since baby is so pure, we don't want to distract from that by having too many colors in the portrait.  So mom and dad should be wearing the same color shirt.
Cover up – Moms should feel free wear sleeves to flatter their arms or perhaps bring a cover up or cardigan. We can definitely edit your images, but we also want you to feel comfortable being photographed. Having a cover up or sweater is a great option if you are self-conscious about your arms.  Clothing should be more form fitting than loose.  I know this sounds all wrong, but waistlines can be edited in post production if it is there in the image.